E-COMMERCE FOR MUSIC BUSINESS
This is what we call e-commerce for the independent.
We create fully operational storefront with your
physical and digital products, handle your customer requests
and ship all orders with the utmost care.
OUR OFFER
We take care of all technical matters so you do not have to.
We build fully operational webstore, add your products,
customize design, take professional product photos and ship all your orders.
Customer support included.

CUSTOM STOREFRONT
We create on-line store with your physical and digital products,
mailing list plugin, discounts and much more.

ORDER FULFILLMENT
We receive all retail orders, handle payments and then pick, pack and ship the products to your customers worldwide.

WAREHOUSING
All your products are stocked in our premises, so you do not have to worry about storage place.

CUSTOMER SERVICE
Your fans requests are handled with care. No emails left behind.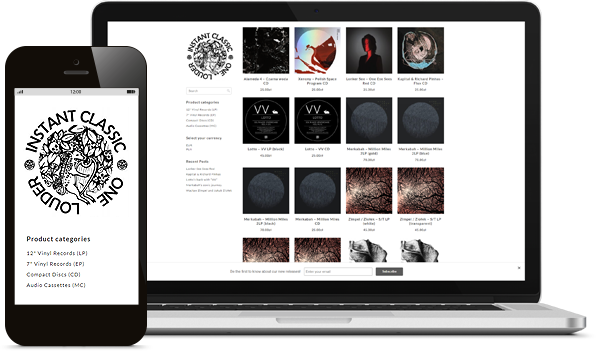 WHY 8MERCH?
Modern e-commerce for the music business is a demanding domain.
That is why we take care of the whole process.
We create and manage your on-line store.
Configure shipping rates for all regions.
Add payment methods.
On your request we can prepare custom storefront design.
We take professional photos of all products.
We manage your on-line stock
and take care of all customer requests coming from your webstore.
There are physical and digital products available.
You can set bundles, discounts, coupons and sales.
Download codes available on-line and on printed cards.
THERE IS NO BETTER TIME TO BE INDEPENDENT.